Thank you for visiting my website!
Apparently you are just as besotted with Bonaire and its scuba diving as I am. Or you have heard all these stories about our wonderful island and are planning a trip to come and see for yourself.
How come I ended up on Bonaire? Well, this is my story in a nutshell.
I was in commercial real estate, but always had the idea of moving abroad to an island where I could dive and rent out apartments to vacationers. Eventually at the end of 2010, after visiting Bonaire for the first time, I decided to my house up for sale in order to realize my dream of moving abroad. I was lucky to sell my house within three months and after that the road was clear for my new life under the sun! Since 2011, I've been living on Bonaire where I eventually bought this fantastic house with its 4 apartments. The first few year I lived here with my ex wife and my two dogs Fins and Eclaire. As this life is not for everybody we decided to spil up and she went back to the Netherland.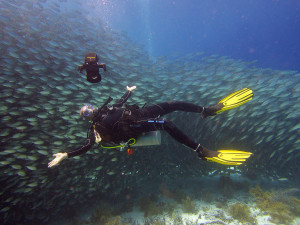 A short story of my life…  For almost 30 years, I worked for one of the largest staff mediators in The Netherlands. As a manager I was responsible for a portfolio of approximately 150 locations throughout the country. In 1993, I came into contact with scuba diving and got certified. Soon after certification I bought my first video camera with underwater housing and then I started filming. I still do, but unfortunately not all my material reaches the editing table. Therefore I still have a drawer full of unedited tapes and Hard Disks with raw material. Some beautiful journeys have made it to the editing table and can ben seen on my Youtube channel.
My favorites
Dive Sites: Salt Pier, Hilma Hooker, East Coast and some secret spot I can't mention.
Food: Sushi, Thai, Indian, Mexican
Drink: Laphroaig Islay Whisky, Mojito
Country: Bonaire, Costa Rica
Dislikes: Cheese