Do's!
Bonaire Animal Shelter
Bonaire Animal Shelter is a refuge for dogs and cats that can no longer be cared for by their owners, have been abandoned, or were born in the wild and brought to the shelter by concerned citizens and tourists. Our own dog, Fins lived in the animal shelter before we took him home to be part of our family. Want to know more about this very good cause, website http://www.animalshelterbonaire.com/ or facebook https://www.facebook.com/AnimalShelterBonaire
How can you help? (zie http://www.animalshelterbonaire.com/index.php/how-you-can-help/)
Donkey Sanctuary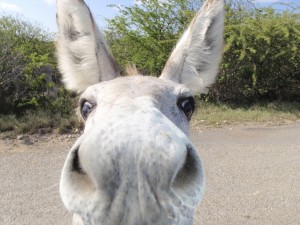 You will notice that there are many donkeys on Bonaire. The Donkey Sanctuary provides a safe home for orphaned, injured, sick and abused donkeys. Go and have a look and see what good work is being done. www.donkeysanctuary.org
Washington Slagbaai National Park
Give yourself time to visit the national park, which is located in the north of Bonaire. It's a nice and adventurous drive and it feels like you could just meet up with John Wayne. Do not forget to bring: swim and / or snorkel gear, camera (preferably with telephoto), sufficient food and especially drink, sunscreen, sun hat or cap. www.washingtonparkbonaire.org
Cadushi Liquor
Bonaire has its own distillery where delicious drinks are made. If you drive through Rincon, stop and have a look. Better yet, a taste before driving back to Kralendijk. www.cadushy.com
Mangrove Forrest
The mangrove information center Bonaire, established in 2002, is a research and excursion center. Visitors to the center learn about the mangroves, of of the most unknown and most endangered environments on our planet. The Mangrove information center offers guided kayak and solar boat tours through the beautiful mangrove forest of Lac Bay.www.mangrovecenter.com
Food and Beverage
You'll get toe at the best ice cream on the island at Gio's in the Kaya Grandi. For many of our guests, Gio's is a daily treat while on Bonaire. www.gioscaribbean.com
Do you want to eat in a more luxurious ambiance?
At Sea: www.atseabonaire.com
It Rains Fishes: www.itrainsfishesbonaire.com
Supermarkets
www.warehousebonaire.com
www.vandentweelgroep.nl
More and comprehensive information and history about Bonaire can be found on Wikipedia: http://en.wikipedia.org/wiki/Bonaire
Last but not least …: Are you interested in becoming a home owner on our island? Ask us for more information and have a look at the great houses we currently have for sale at RE/MAX Paradise Homes.
Dont's!
The sun
Bonaire has a fantastic sunny climate, but be careful. The sun is very powerful, but the cooling easterly winds make you forget about getting sunburn. Sunburn obviously is bad for your health and it can spoil your holiday. Therefore sufficient lubrication with sunscreen with a high protection factor is a must. Also make sure you drink enough water to keep you hydrated.
Petty crime
Like everywhere in the world, Bonaire is no stranger to petty crime. Opportunity creates the thief they say, so be sensible with your expensive belongings. Do not leave anything of value in your car.
Villa Alcyone is located in Sabal Palm which is a very safe and quiet neighborhood. In addition, our dogs Fins and Eclaire keep unwanted guests at bay and we – as owners – are often at home to keep an eye on things. However, you should never leave your belongings unattended.
Sea
The sea around Bonaire knows few dangers, but there are a few things you need to consider. It is not uncommon for a diver to have a red raised rash resulting from a coral encounter. A burning sensation, pain and itching may also accompany a rash if the coral is actually a hydroid, such as fire coral, which is not a true coral, but a stinging creature. We advise you to always wear dive shoes while walking into the water and most importantly to never touch anything underwater!
Spines
An island with lots of goats has vegetation with spines. Never walk barefoot! Especially in Washington Park you'll find many Acacia trees with very large spines.